Hyundai Cars for Sale
Elevate every driving experience with the diverse lineup of new Hyundai cars available at Ron Marhofer Auto Family. Take on new adventures in style with the Hyundai Accent, or choose the Hyundai Elantra with its sleek styling and impressive appearance. Make the most of every drive in a new Hyundai Sonata, with their spacious and versatile interiors designed to keep all occupants comfortable. Hyundai is elevating its game in exciting ways, and you'll find a great selection of the newest car models available now at Ron Marhofer Auto Family!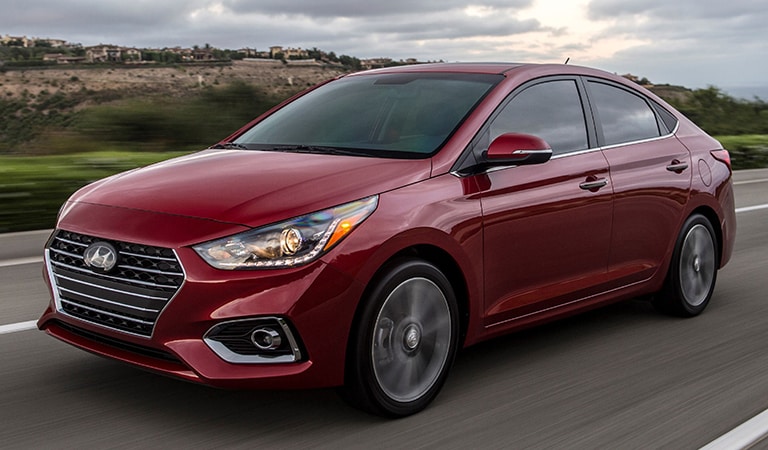 Hyundai Accent
The Accent may be compact, but clean and modern styling helps it stand out in a big way. Accent's smart technologies and conveniences keep you entertained, informed and connected while innovative safety features look out for you.
Hyundai Elantra
Transformed and loaded with technology, the new Elantra takes the spotlight with a giant leap into modern style and intelligent innovation. With a full spectrum of choices for power and efficiency, Elantra offers a bold new take on sedans.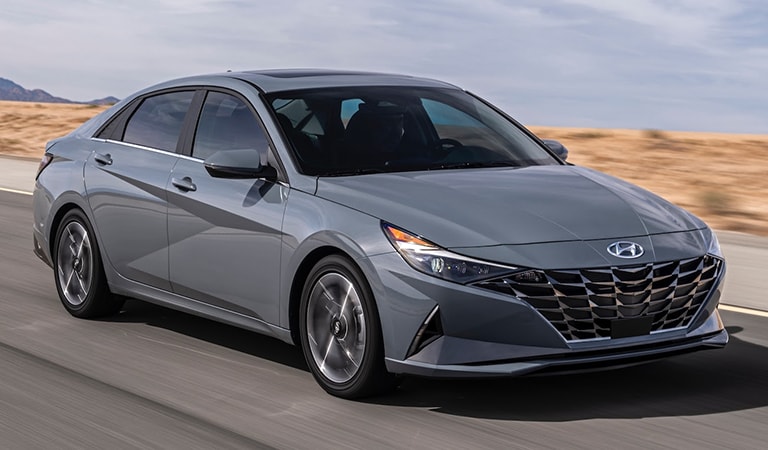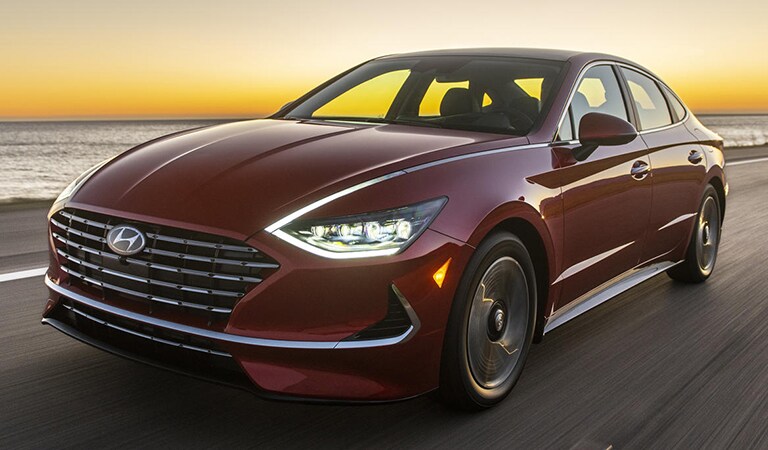 Hyundai Sonata
From sexy sports coupe design cues to technology and safety that bound into the future, Hyundai Sonata has done it again! Innovation after inspired innovation helps make Hyundai Sonata the best thing to happen to sedans in a long time.
New Hyundai Car FAQ
How fuel efficient are Hyundai cars?
Each model in Hyundai's car lineup is incredibly fuel efficient with each of their engine options earning different estimates. The 2021 Hyundai Accent SE earned an EPA estimated 29 mpg city and 39 mpg highway, with the Accent SEL and Limited earning 33 mpg city and 41 mpg highway. The 2021 Hyundai Elantra earns a bit more with the SE trim earning 33 mpg city and 43 mpg highway, while the Limited and SEL trim earned 31 mpg city and 41 mpg highway with its 2.0-liter four-cylinder engine. The 2021 Hyundai Sonata earns the least of its siblings due to its larger size, with the SE trim that is equipped with a 2.5-liter four-cylinder engine earning 28 mpg city and 38 mpg highway. The SEL, SEL Plus, and Limited trims each earned 27 mpg city and 37 mpg highway with a smaller four-cylinder engine size.
What kind of safety features do Hyundai cars have?
Safety is one of the main concerns for most customers and Hyundai's car models are some of the safest models in its class. Each 2021 Hyundai car has safety features like forward collision warning, automated emergency braking, and lane departure warning, with adaptive cruise control, blind spot monitoring, and rear cross traffic alert available. Each of Hyundai's sedans was named a Top Safety Pick by IIHS and two of them earned a five star crash test rating from the NHTSA. Contact us to schedule a test drive and experience the features yourself!
What engine options are available for Hyundai cars?
Hyundai produces quality engine options in each of their car models. The 2021 Hyundai Accent is equipped with a 120 hp 1.6-L four-cylinder engine that is paired with front wheel drive and the choice of a six speed manual transmission or a continuously variable automatic transmission. The 2021 Hyundai Elantra has a 147-hp 2.0L four-cylinder engine paired with front wheel drive and a continuously variable automatic transmission. The Elantra's N Line trim has a 1.6L Turbo GDI four-cylinder engine paired with a six-speed manual transmission or seven speed dual clutch automatic transmission. The 2021 Hyundai Sonata has options for a 191-hp 2.5L four-cylinder engine paired, 180-hp 1.6L Turbo GDI four-cylinder engine, and a 290-hp 2.5L Turbo MPI/GDI four-cylinder engine that are all very capable for any trips.
How is the interior in the 2021 Hyundai car lineup?
The interior for each of our Hyundai car models is sleek and stylish, while also giving its passengers a comfortable amount of space. The Hyundai Accent's interior means business with its sophisticated appearance and adequate amount of legroom to ensure your comfortability. After a new update this year, the Hyundai Elantra's interior has a dashboard and center console that wraps around the driver's side with a modern, simple design for the passenger's side. The Hyundai Sonata has the most spacious interior compared to the other models in Hyundai's lineup. Its 16 cubic feet of cargo space is paired with a comfortable, simple interior that looks more than it's worth. Come visit our dealership for a test drive and our sales staff can show you the wonderful interior on each of these models!