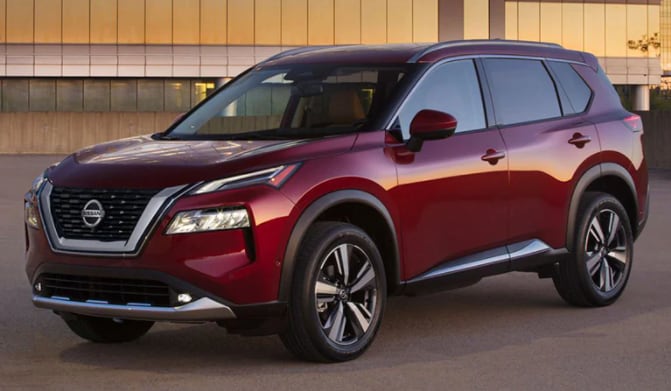 Beginning with new 2021 models, Nissan has begun making Nissan Safety Shield®, a suite of six active safety technologies, standard on 10 of its most popular Nissan models, including Nissan Sentra, Nissan Rogue, Nissan Rogue Sport, Nissan Kicks, and more. These 6 technologies help provide 360 degrees of active driver assistance. Our Nissan dealership near Stow offers this incredible feature. Let's break Nissan Safety Shield® down and look at its constituent parts.

High Beam Assist
When you're driving at night, you have a choice as to your headlight settings: high beams, for greater visibility of the road ahead, and low beams, to be a good highway citizen. Flipping back and forth between these two modes can be tiresome, especially when driving down country roads where oncoming traffic comes on suddenly.
Nissan's High Beam Assist automatically switches to low beams when it detects a vehicle ahead, and back to high beams when it's passed or when needed, making your job of driving at night a little easier, and a little safer.
Lane Departure Warning
Driving along the highway can be tiresome and tedious. On especially long drives, you can be at danger of highway hypnosis, which can lead to a loss of focus, lane drift, or even an accident.
Lane Departure Warning is designed to combat accidental drifts over the lane lines on a highway, with a combination of visual warnings and audible and haptic signals to guide you back to the center of your lane.
Rear Cross Traffic Alert
Backing out of a parking spot, whether from your driveway, in a parking lot, or the street, can be risky, especially if you don't have good visibility of the cross traffic behind you. Rear Cross Traffic Alert serves as an extra set of eyes, and can warn you when vehicles are approaching as you reverse from a parking spot.
Rear Automatic Braking
Similarly, when backing into a parking spot, it can be hard to judge when you're coming too close to the wall. Rear Automatic Braking can help you detect those stationary objects when backing up, and even apply the brakes so you don't hit anything.
Blind Spot Warning
One of the most common causes of highway collision is when one car attempts to merge when another car is in its blind spot. Nissan's Blind Spot Warning helps to alert you when there's a vehicle in your blind spot, so you know when it's safe to merge into the next lane.
Automatic Emergency Braking with Pedestrian Detection
This feature uses forward-facing radar and camera technology to help you watch the road ahead for vehicles stopping short or crossing in front of you, as well as pedestrians crossing the street. When it detects something, it can use audible and visual warnings to alert you to the obstacle, and even apply braking to avoid or reduce the severity of a frontal collision.
Nissan Safety Shield® Keeps You Safe near Akron
Wherever you drive in the Akron, Stow, Cuyahoga Falls, or North Canton areas, you want a car that cares as much about your safety as you do. Whether it's a Nissan Rogue safety shield, Nissan Sentra safety shield, or anything else, this feature is guaranteed to make driving more convenient and much more safe. Nissan SUVs, cars, and trucks have the active safety features you need to drive confidently around Northern Ohio.
Ron Marhofer Auto has a wide variety of new and used Nissan cars on our lot for you to choose from! Our friendly sales staff will be happy to help you find a safe, stylish, and affordable Nissan, and after you buy it, our service department is standing by to keep it in top running shape for years to come. Come see us at our Nissan dealership, give us a call, or schedule an appointment online today!